Free no obligation quotation with friendly help and advise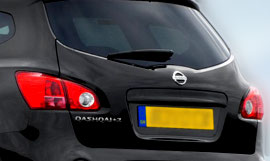 Crash and accident repairs
If you have had a major accident we can offer a full repair service for both private and insurance customers. No matter how extensive the damage is, our highly qualified workforce can repair it to the highest standard using the latest technology and skills. If the accident wasn't your fault, call us and we can ensure you get the best possible outcome and not the insurance company, all at no cost to you. We deal with the entire legal process, storage, injury compensation and arrange a free like-for-like courtesy car, whilst still repairing your vehicle to an exceptional standard. Read more...
Scratches, rust, dents, scuffs and panel repairs or replacement
We can repair and repaint all those annoying scuffs, dents, chips, rust patches or scratches that spoil your car, on all of your cars panels, including bumpers, bonnets, wings and doors. We also offer a first class same day service for appropriate repairs. Our many longstanding regular customers are testament to the quality, value and service that we provide. We also carry out dent and scratch repairs on fleet, hire, and Motability cars, saving you a costly return penalty.
Paintwork and Resprays
If you have a single panel or want a full respray we can restore your vehicles paintwork to the day it left the factory. We are often the first port of call for both private and trade clients when something needs doing that can be planned or as a result of an accident. We insist on an unrivalled level of personal service and standard of work at a low price, which is how we have developed our excellent reputation.
Alternatively, if you want a special design, your car 'pimped' or have something unusual in mind call us with any questions you may have, we are always happy to help and advise.
Classic car restoration
We have enthusiastically restored many classic vehicles over the last 25 years and love to be involved with your restoration projects. John himself has immaculately restored a number of his own classic cars, including 1960's Beatles, MINIs and Morris Minors, as well as Lambretta bikes. Turning cars from wrecks to the standout vehicles of the roads gives us as much pride and pleasure as the customer if not more. Whether it's a full restoration or just some tidying up, give us a call and we will share our knowledge and experience to help you care for your classic.